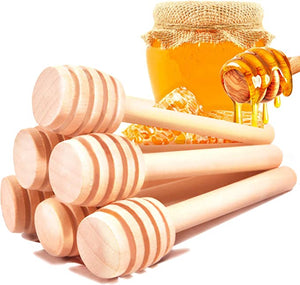 Amazon
Zazolyne Mini Wooden Honey Dippers
Regular price
$5.99
$0.00
Unit price
per
Get the Perfect Honey Dipper Stick from Zazolyne - If you enjoy drizzling honey, maple syrup or melted chocolate over your favorite dishes, this wood honey comb stirrers are a MUST HAVE. The stirrers sticks is to get honey out of a jar without making a sticky mess. The mini honey sticks in the groves of the dipper, so it won't drip the way it does when you use a spoon. We offer you 22pcs*3inches length. This tiny size is perfect for 1 to 4 oz honey jars.

Well Made Honey Comb Stick- Amazing Invention Sweet Turning Project: This wood honey dippers were crafted of natural wood, prized for its durability and odor-resistance, each honey dipper stick is distinguished by its own unique grain pattern. Another bonus is the smooth wood surface, which won't scratch your glass jars.

Adorable Addition to the Honey Jar Gifts - Are you searching for the perfect honey stirrers for your party or if you start a cheese board business or open a bee day party? Then this is it! These are cutest decor piece! They are lightweight, easy to use and perfect for use with just about any kind of syrup. Great for drizzling honey, maple syrup, melted chocolate, caramel and more.

Maintenance Instruction- For the first use, pls hand wash the little dipper/honey wand and wipe off the water first. Then use olive oil to spread it evenly on the surface, and place it in a ventilated place to allow the oil to fully penetrate into the dipper to form a protective film and increase the lifetime. We suggest maintain it every 1-2 months to make them last.

 Thoughtful After Sale Service – Each honey wooden dipper have been fully checked before packed. Pls feel free to inform us if you find the quantity is not correct or defective dipper. We will reply you within 24h and offer you the satisfied solution.
---