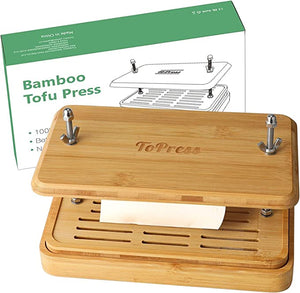 Amazon
YARKOR Bamboo Tofu Press
Regular price
$21.98
$0.00
Unit price
per
BETTER FLAVOR & TEXTURE FOR TOFU: Yarkor bamboo tofu press is an essential kitchen gadget that makes life-changing and slowly, gradually squeezes all the water out of your tofu so you're left with a dense block that has incredible taste and texture. Note: Please make sure the piece of tofu is the standard size block and not thicker. 8-12oz tofu would be the best choice.

100% NATURAL BAMBOO AND NOT PLASTIC: This bamboo tofu press is a good choice for anyone who prefers to stay away from plastic and wants a more natural, environmentally friendly tofu press. With no plastic pieces, thick, solid and eco-friendly bamboo plates and food-grade 304-stainless steel hardware, this tofu press really steals the show for anyone wanting to reduce the toxins in their food and home environment.

GET HIGH DENSITY TOFU IN 5-15 MINUTES: Yarkor bamboo tofu press presses water evenly (for perfect, consistent texture) from tofu anywhere between 5 and 15 minutes, which is ideal if you're looking to prepare dinner in no time. The gradual nature of the pressing will give your tofu the perfect texture and consistency for it to absorb gorgeous marinades.

EASY TO USE: Tofu lovers simply need to place their block of tofu between the two plates. Each plate has a screw and bolt at the side that can be tightened to remove the water. Adjusting the pressure on the tofu is also very simple. This helps to make sure that the tofu will not crumble due to excessive pressure. The simple use of the press, makes it an easy choice for any age.

BUILT-IN DRIP TRAY MAKES THE DESKTOP MORE TIDY: YARKOR deepen water drip tray and strainer can hold more water from tofu. You don't have to keep pouring water or additional bowls or plates for draining. The bamboo tofu press removes the most water possible from the tofu and allows the liquid to be easily poured off. You no longer need to worry about waste paper towels messing up your kitchen. Come with the cheesecloth for cheese, yogurt, frozen spinach pressing and straining.
---