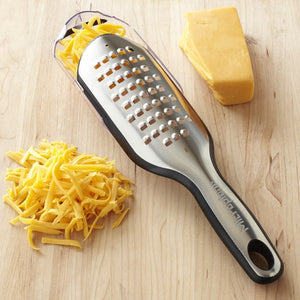 Williams Sonoma
Microplane® Elite Paddle Graters
Regular price
$17.95
$0.00
Unit price
per
Originating as a smoothing tool for woodworkers, the Microplane proved to be an indispensable grating and shredding tool in the kitchen. We offer four versions for handling an array of prep tasks.
Hand-held graters allow you to grate or shred a variety of foods.
Fine grater zests citrus fruits, grates nutmeg and hard cheeses.
Ribbon grater is ideal for shredding chocolate and coconut.
Extra-coarse grater is designed for semi-hard cheeses such as cheddar or jack.
Star grater creates light, feathery gratings of parmesan cheese.
Curved surfaces provide better contact.
Contoured blade allows for cover to double as a receptacle holding up to 1 cup and is marked with US and metric measurements.
Razor-sharp stainless-steel teeth.
One-piece construction.
Soft-grip handles ensure a firm, comfortable hold.
Dishwasher safe.
3" wide, 11" long.
Blades are made in USA; assembled in Mexico.
---