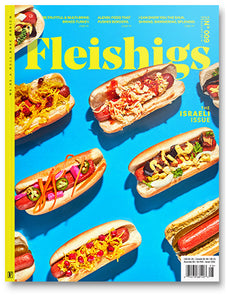 Fleishigs Magazine
Issue No 09 - August 2019
Regular price
$9.00
$0.00
Unit price
per
The food of Israel showcases a one-of-a-kind culture based on the convergence of people from all over the world. Sina Mizrahi shares her favorite melting pot recipes and discusses this unique phenomenon. As you walk through any market in Israel as Adeena Sussman did with Danielle Renov,  you will be greeted by Yemenite lachuch, Tunisian Burika, and Belgian-style ice cream cones, and the always fresh and seasonal Israeli produce.
When planning this Israeli issue, it was just as overwhelming as planning a week's vacation to Israel. There was a plethora of content we wanted to feature, but with limited page numbers, we took a very specific approach. The issue became themed around seeing Israel through its food. This is why you will find turkey in our butcher's cut section (unbeknownst to many, Israelis eat a lot of turkey), kabobs for some summer grilling inspiration, and an Israeli-themed hot dog bar that will enhance your summer fiesta. Our travel section takes you to Herzliya, and you'll find 5 Under-The-Radar food spots that are musts for your next trip. Bringing an account of where Israeli fine dining stands in America today, we feature Alenbi in Brooklyn, NY.
As always, we peppered in many delicious Israeli-inspired recipes throughout the issue. It is our hope that we did Israel justice in this month's issue.
---