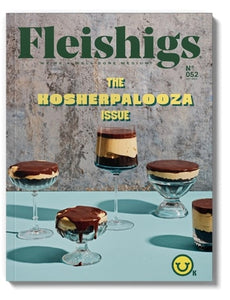 Fleishigs Magazine
Issue No 52 - October 2023
Regular price
$9.00
$0.00
Unit price
per
Issue No 52 - October 2023
Beyond our passion to celebrate the kosher lifestyle, our biggest motivation is to bring people together through food. So when Powwow Events approached us to make a kosher food show, it was an immediate "YES!" We had the shared vision of celebrating kosher food in a way that had never been done before. 
The event, which was held on June 28th, 2023 at the Meadowlands Expo Center, was a smashing success. This issue is all about sharing a glimpse into the day. Many shared the sentiment that KosherPalooza exceeded any of their expectations.
Whether it was attending lectures from the OU about Kosher; watching food demos from the incredible group of kosher cookbook authors who gave their time and efforts to showcase what they do best; or just walking around interacting with the vendors, I think I can say with confidence that everyone in attendance enjoyed the day immensely. And for that, I couldn't be prouder.  
---