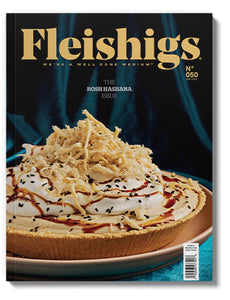 Fleishigs Magazine
Issue No 50 - August 2023
Regular price
$9.00
$0.00
Unit price
per
Issue No 50 - August 2023
As a monthly magazine, we always have the opportunity to explore new and exciting ideas - while still remaining true to the holiday or season at hand.
As we are always looking for fresh, new approaches, we thought — what better time than the Jewish New Year to switch things up? Running some polls, a few very interesting conclusions were made — most of you weren't on the lookout for an entire simanim-based menu and were more interested in side dishes, above all. 
The results of the poll, coupled with our passion surrounding making the most of specific ingredients, is what inspired this issue. Instead of a full feast spread, we divided the issue into 10 themes that we know you'll love and will inspire your cooking this holiday season. From an all-around favorite cut of meat (deckle), working with root vegetables in new ways and fresh approaches to salads to fun takes on challah and classic desserts, this issue is packed with ideas and recipes to bring that New Year spirit to your Yom Tov table.
---