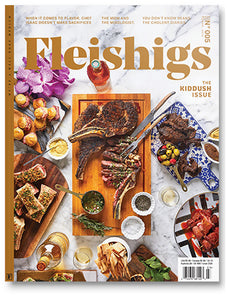 Fleishigs Magazine
Issue No 05 - March 2019
Regular price
$9.00
$0.00
Unit price
per
So...how do you kiddush? How do you celebrate?  In this issue, Faigy Murray shares her version of herring amped up with some jalapeño pepper and we even topped some of sourdough expert Chaya Suri Leitner's bread with lemon-caper studded herring (recipe and step-by-step technique on page 30). Turn to page 38 to read famed writer Maira Kalman's thoughts on herring. 
There is no food more symbolic of a kiddush than cholent. Miriam Pascal joined our quest to discover what makes the perfect cholent, where you can get it and how you can recreate it at home. 
While there's nothing like tradition, a little bit of modern thrown into the classics can make these magical moments unforgettable. That is where visionary event planner Heshy Jay comes in and offers up his take on kiddush that is truly inspired by modern cuisine. Over at Modern Heimish, Chef Isaac Bernstein shares his love of Chinese food (essentially Jewish food, no?) and we were privileged enough to spend the day watching him create the Chinese-kiddush fusion you see on page 72. It was beyond our expectations. 
Turn to page 79 to see how we turn various kiddush recipes into Purim mishloach manot ideas, and don't forget to check out Jacqueline Elbaz's Syrian feast and lachmagine hamantaschen.
---