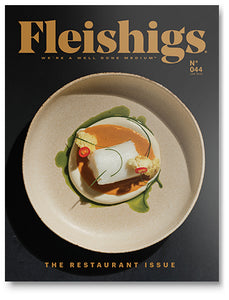 Fleishigs Magazine
Issue No 44 - January 2023
Regular price
$9.00
$0.00
Unit price
per
Issue No 44 - January 2023
The Restaurant Issue
This issue is all about that and the joy that restaurants bring to our lives. We highlighted some of our most memorable bites and the latest trends we've seen. We also recreated many of those dishes so you can bring the restaurant experience home, wherever you are in the world.
Restaurants, play such an integral role in commemorating happy occasions. Aside from celebrations, enjoying a meal at any restaurant can also be freeing — a break from the kitchen and time to wind down and enjoy being served. It can also feel like a mini getaway of sorts when dining at a restaurant that serves authentic cuisine, like Asian, Georgian, or Israeli. 
The kosher restaurant industry has expanded in great waves over the last few decades to provide consumers with authentic culinary experiences, transporting you with the food and overall vibe. Restaurants can take you somewhere you've never been before! And that's certainly worth celebrating.
---