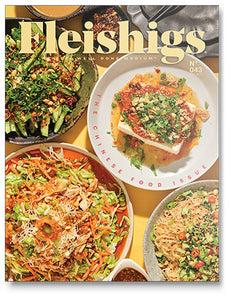 Fleishigs Magazine
Issue No 43 - December 2022
Regular price
$9.00
$0.00
Unit price
per
Issue No 43 - December 2022
Authentic Chinese food is complex, with many different signature cooking styles and ingredient lists. In the Sichuan region, the recipes are all about balanced spiciness. Chef Eli Redlich shares his favorite Sichuan recipes — dandan noodles and mapo tofu. Cookbook author and culinary instructor Naomi Ross breaks down everything you need to know about the wok and how to master basic techniques at home so that you can cook without an exact recipe. We also explore Chinese pantry ingredients and a new world of vegetables. 

Interestingly, many Chinese dishes like General Tso's chicken, sesame chicken, wonton crisps, and fortune cookies, were adapted to the American palate and the ingredients available at the time.

I encourage everyone to visit an Asian market to see what gems you can find. Chanukah is the season of frying; beyond the deep-fried and stir-fried, we have lots of exciting festive recipes to get you through the season. If you are on the lookout for a fun, interactive party meal, turn to the hot pot (another Sichuan specialty) feature. We hope this issue helps bring your family and friends together over some old and new Chinese food favorites.
 
---