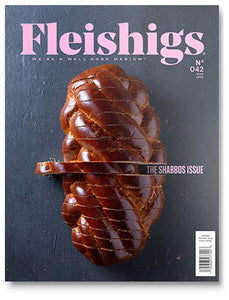 Fleishigs Magazine
Issue No 42 - November 2022
Regular price
$9.00
$0.00
Unit price
per
Issue No 42 - November 2022
It can be overwhelming trying to formulate a new Shabbos menu every week. We approached the issue firstly with classics — challah, gefilte fish, roasted eggplant, chicken soup, and cholent are all packed into this issue with some new twists. Cookbook author Rochie Pinson discusses the value of challah and how it will never go out of style. To drive this point home, Naomi Elberg shares an incredible water challah recipe that is elevated with roasted garlic.

Moving on from the classics, Reena Goldberger shows us a modern, fulfilling, dynamic take on Shabbos. Aside from the stunning tablescapes, the recipes are impactful yet approachable. Reena never forgets flavor and her menu packs a savory punch with international flavors that we all loved. 
Beyond the food, we share a variety of Shabbos content from around the world, from travel bloggers Raizel and Dani Namdar's most interesting Shabbos experiences to what Shabbos means to rapper Nissim Black, digital influencer Lizzy Savetsky and Chabad shlucha to Bozeman, Montana, Chavie Bruk. Unlike anything else, Shabbos is a unique force that has the power to unite people, no matter where in the world you live or how you identify. Shabbos is for everyone — and that's something worth celebrating. 
---