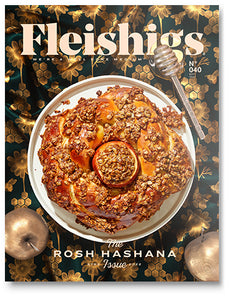 Fleishigs Magazine
Issue No 40 - September 2022
Regular price
$9.00
$0.00
Unit price
per
Issue No 40 - September 2022
We invited some of our favorite kosher cookbook authors to contribute their favorite recipes to create a fabulous Rosh Hashana feast. While it's interesting to embrace new ideas in the New Year, the pairing of apples and honey will never get old. This classic combination inspired a large part of the issue, from challah and desserts to cocktails. We even visited a backyard honey farm and shared the honey-making process to learn why local honey really is truly superior to its conventional counterpart. 
A seder of simanim (small bites of symbolic food) is a custom that I never knew existed until Shlomo and I got married. My mother-in-law prepares spinach and leek patties, quince, carrots, and black-eyed peas in syrup — all delicious and meaningful additions to the Rosh Hashana experience.

We have an approachable, yet unique, simanim menu with ingredients that are easy to find, but prepared with a twist. We were fortunate to host a group of food and media personalities for another live article dinner at Lamppost Bistro in Pine Branch, NJ.

Wishing you a New Year full of meaning, happiness, and health and lots of reasons to celebrate and gather around a table full of food! 

---