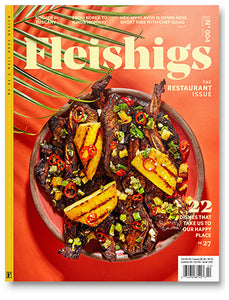 Fleishigs Magazine
Issue No 04 - February 2019
Regular price
$9.00
$0.00
Unit price
per
Back in the nineties, Dougies, was the hottest kosher restaurant in Manhattan. Lines formed out the door every Sunday night and diners waited hours to feast on hot, sticky buffalo wings, spicy potato wedges and their famous rack of ribs. Decades later, the kosher restaurant scene has expanded pretty impressively.
We chose 22 of the most memorable restaurant dishes and share some incredible secret recipes to go along with it. Our personal favorite is the ajitsuke tamago, the unique marinated eggs that no ramen bowl should be served without. We share some dining tips from legendary cookbook author and restaurateur Lévana Kirschenbaum, lessons from a restaurant chef, the tipping issue, and destinations worth traveling to.
On the topic of legends and recipes, Chef Isaac Bernstein is the contributing chef for our Butcher's Cut section. This month, we delve into short ribs, and Chef Isaac truly does it justice. The recipes he contributes are valuable and delicious, and the techniques shared are truly astounding. Our travel section, written by talented cookbook author Rochie Pinson, gives a glimpse into kosher options in Tuscany and allows us to vicariously enjoy Italy while it remains on our wish list of places to visit.
---