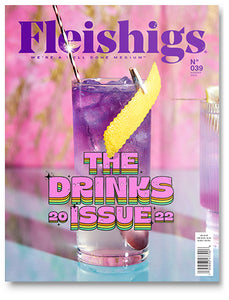 Fleishigs Magazine
Issue No 39 - August 2022
Regular price
$9.00
$0.00
Unit price
per
Issue No 39 - August 2022 
Doing this issue took us all out of our comfort zones and that is usually the best place to be to produce exciting, revolutionary, and impactful content. I couldn't be happier with the results. 
This issue is all about celebrating life and the many happy occasions that come along with it. We were joined by master mixologist Jake Niman, who provided an entire handbook on everything you need to know about cocktails, from basic recipes and customization options to essential tools and ingredients. 
Our resident wine connoisseur Gabriel Geller highlighted five Champagne varieties that I used to create bubbly recipes perfect for a crowd. Beyond alcohol, this issue is packed with the latest drink trends. The most time-consuming (albeit fun) recipe to develop was bubble tea. If you are looking for something less time-consuming, try matcha, cold brew or a smoothie bowl topped with a chocolate shell. 
Talk about having fun in the kitchen! A few food recipes snuck their way in — I couldn't help it! From cooking with alcohol to baking with it, you won't go hungry with these recipes that put the boozy stuff at the unexpected forefront.

---