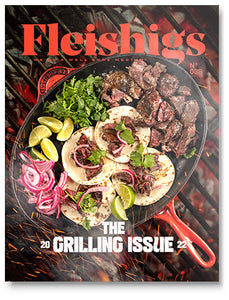 Fleishigs Magazine
Issue No 38 - July 2022
Regular price
$9.00
$0.00
Unit price
per
Issue No 38 - July 2022 
As a kid growing up in an apartment in Brooklyn, city life was a stark contrast to the space and freedom that country life offered. Fridays are spent swimming, chilling, visiting flea markets, and getting a pie of pizza at the iconic Fialkoff's. After Shabbos, It's Café Chocolat for waffles. 
Sunday is all about the grill. The art of grilling many items at once is all about managing the heat on different sides of the grill and knowing when to cook what.
This summer's Butcher's Cut column is all about boneless, skinless chicken thighs. They are so easy to grill and take on any flavor. We share three marinades, as well as many ways to enjoy the marinades beyond the grill. My personal favorite is using my teriyaki marinade to make chicken karaage.The herb marinade mixed with lemons and shallots and roasted in the oven is the perfect dinner for summer and beyond. 
For this month's Culinary School feature, Ari White teaches us how to create a smoker on any grill using a simple can. It is brilliant, easy and fun. Beyond all of these tips and recipes, there is loads more grilling inspiration, from delicious skewers to a whole pineapple and more! 
---