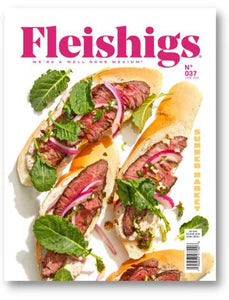 Fleishigs Magazine
Issue No 37 - June 2022
Regular price
$9.00
$0.00
Unit price
per
Issue No 37 - June 2022 
One of my favorite activities is taking a trip to the farmer's market — walking in the fresh air, socializing, and discovering new products. Every time I leave the market with bags of fresh bounty in hand, the ideas start to flow and I look forward to cooking.
There is nothing quite like a summer farmer's market and its vast & varied seasonal produce to choose from — berries, heirloom tomatoes, stone fruit, fresh peas, and more. We decided to use our market experiences to guide the inspiration for this issue, celebrating the season with produce-driven recipes. We enlisted the help of Eli Redlich, a private chef who created a magnificent gourmet meal that is attainable all. 

Vanessa Haberman shared how to best utilize market-fresh ingredients for a Shabbos feast. Beyond the market, grilling season is upon us and we decided to highlight hanger steak – beefy, juicy, easy to prepare, and extremely forgiving. I hope this issue enhances your summer experience and inspires you to explore, experiment, and think outside the box. 

---