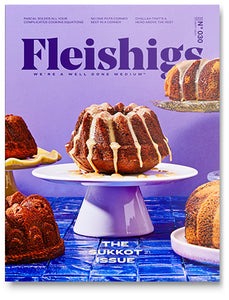 Fleishigs Magazine
Issue No 30 - September 2021
Regular price
$9.00
$0.00
Unit price
per
Issue No 30 - September 2021 (Sukkot5782)
This year, Sukkot falls out in the early fall; while some nights can get rainy or chilly on the East Coast, it's the perfect temperature for a week of outdoor dining.
Long before fall, we had our own outdoor feast with our old friends, Naftali and Anna Hanau (from Grow & Behold) and Chef Moshe Wendel. We spoke about how much has changed and evolved since we started out in the industry back in 2010, photoshoots, dinners, a new podcast (keep posted!), a new newsletter, and finally, our new app (available now to subscribers in the App Store or Google Play). 
We pulled plenty of inspiration from Israel and the shuk with some fresh market salads and a variety of warm and comforting kubbeh soups. There are also some easy, family-friendly dinners to carry you through those harder "in-between-days" when no one wants to cook again! And for the Sukkot feasts, we bring you new challah concepts, a multitude of corned beef recipes, new takes on kasha, and Bundt cakes for days.  I'd love for you to use the recipes in these pages to celebrate with family and friends and make wonderful memories that will bring joy to your Sukkot holiday.
---