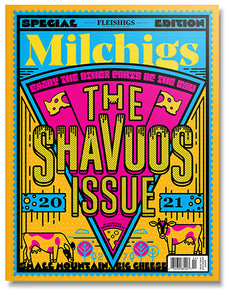 Fleishigs Magazine
Issue No 27 - May 2021
Regular price
$9.00
$0.00
Unit price
per
Doing a dairy issue was all about switching gears, from cooking on the nearly untouched dairy side of our kitchen to buying new props and flatware that were dairy and thinking about what we can offer as a publication to bring something new to the dairy table. Since we have never done dairy, it was difficult to pack it into a standard-sized magazine and as the issue evolved, so did the page count. 
This issue offers everything you need to create the ultimate dairy feast, from a modern Israeli spread to a traditional American style table, but beyond that, offers so many new food lessons (butter 101, dairy challah tutorials and a step-by-step galette guide), dynamic stories (Noi Due Café, travel to Seychelles and chocolate CBD) and beyond delicious recipes (stuffed cookies and the best New York-style cheesecake I've ever tasted). 
We couldn't be happier with the results, and look forward to hearing your thoughts and whether you think we should make this an annual event.
---