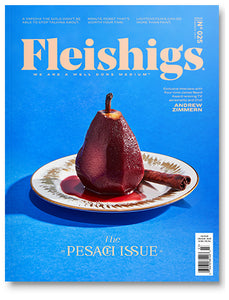 Fleishigs Magazine
Issue No 25 - March/Pesach 2021
Regular price
$9.00
$0.00
Unit price
per
Living in the Moment
For us, nesting translated into the development of a ton of new, fresh, seasonal and easy-to-make recipes for Pesach, born out of this sudden burst of inspiration. Some favorites include an easy tomato-herb sea bass, cabbage potato kugel, and almond chocolate chip cookies that come together in no time
We always loved Pesach. It is such a special time to get in touch with our heritage by celebrating the miracle of the existence of a Jewish nation with the Haggadah as our guide. we share this sentiment with our friend and food blogger Chaya Lichtenstein (famously known as @chezchaya on Instagram) who joins this issue as our guest editor. Chaya and her mother Gita (affectionately known as "Mama Licht") bring a perfect fusion of young, fresh energy and tried-and-true wisdom to plan and execute the ultimate Pesach. 
We formatted this issue like a cookbook that is divided into sections — tips for planning for Pesach; snacks & appetizers; salads & soups; fish; mains; desserts; and wines. But beyond recipes, in keeping with our brand ethos, we have fascinating articles that offer both inspiration and great reading material. Read a guide to shopping in a restaurant supply store, renting a vacation home, complete Q&A with an expert fishmonger, an in-depth interview with celebrated Emmy & James Beard award-winning TV personality Andrew Zimmern, Pesach cookbook reviews, and more.
Our personal favorite recipe in this issue is our Last Bite — Yerushalmi pickles. While we don't even love pickles, we appreciate the love that is ingrained in the recipe. Wishing you and your family a Happy (and healthy!) Pesach.
---