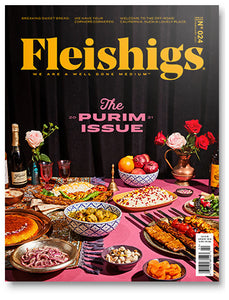 Fleishigs Magazine
Issue No 24 - February 2021
Regular price
$9.00
$0.00
Unit price
per
We're not clowning around this Purim.
No matter how many people you will be having at your Purim feast this year, this is the issue packed with fun, exciting ways to bring the Purim spirit to your table.
Since the story of Purim took place in Persia during the 5th century BCE, we set out on an adventure to learn about authentic Persian cuisine from Yoav Antian, who cooked up a feast inspired by his family's Persian heritage. He shared dishes including gondi (lamb meatball stew), an array of grilled kebabs, tahdig (the most notable Persian crunchy rice dish) and much more. Ahuva Gottdiener takes us through her experience attempting to grow saffron, an exotic spice that is key in Persian cuisine. We also take you on a tour of three incredible Persian restaurants located in Great Neck, NY.
Take inspiration from a few talented Los Angeles women who take us on a meat pizza adventure, with a no-knead overnight dough, endless creative toppings and an Italian-inspired tablescape. Beyond feasts, there are countless ways and ideas to celebrate the day — from mishloach manot ideas like ramen in a jar, tarts to go, elevated cereal treats and a DIY brownie "hamantaschen" kit, to cooking outside your comfort zone with the most adventurous Butcher's Cut we've ever done, featuring sweetbreads.
---