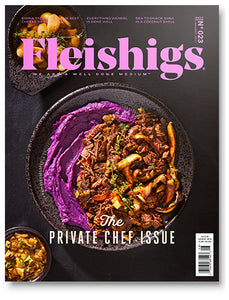 Fleishigs Magazine
Issue No 23 - January 2021
Regular price
$9.00
$0.00
Unit price
per
We're taking private chefs public.
Scrolling through Instagram one evening, We where inspired by Ahuva Schwartz of The Katamon Kitchen (@thekatamonkitchen), who was offering her signature #shabbattogo menus, as well as extending it to #dinnertogo for weeknights. In this issue, Ahuva shares some of her signature Shabbos recipes, like sweet and sticky roast chicken, sesame carrots, classic potato kugel and the most delicious apple cider cake. 
While there are chefs like Ahuva who provide homestyle meals, various private chefs worldwide bring a fine-dining restaurant experience to your home. The perk? The ability to customize a menu to suit the needs and preferences of you and your guests for an experience unlike any other. Looking to take a chef with you on your travels? Sruli Subar is the king of logistics and can create a 5-star dining experience anywhere in the world. He has traveled with families and small groups to Kenya, Maldives, Morocco and more and he has even done it safely during the pandemic.
This issue was one of the most fascinating to plan because, beyond the incredible array of recipes shared, each chef's story is truly a great read and provides tons of insight into this quiet world. Chef Hunny Khodorkovsky, for example, has cooked for such an elite group of clients that she cannot share most of what she does on social media. In other words, private chefs are some of the most under-the-radar and inspirational experts we know.
---