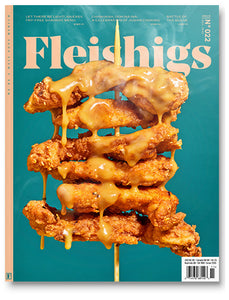 Fleishigs Magazine
Issue No 22 - December 2020
Regular price
$9.00
$0.00
Unit price
per
The tremendous role that the oil played in the miracle of Chanukah has made it the shining star of our food traditions. This year in the Fleishigs Magazine test kitchen, we decided to inject some adventure into our fried foods by celebrating international flavors — beyond the classic latkes and donuts. Our resident feast expert Reena Goldberger shared some of her Cuban favorites, like tostones (twice-fried plantains) served with ropa vieja and two different salsas. Her bunuelos (Cuban donuts) with guava glaze did not last very long in the kitchen! Culinary expert Naomi Ross brought some Indian flavors to the table with her addictive (and gluten-free!) fried pakoras with tangy tamarind chutney. 
Fried chicken king Yehuda Joffre gave us the secret to the perfect fried chicken nuggets, along with various spice rubs and dips, which would make a great chicken nugget bar for your Chanukah party. I share a few fun ways to elevate some Jewish deli for Chanukah, including a fried spring roll inspired by the classic pastrami sandwich. 
In order to gear up for our International Fried Chanukah feature, we decided to create a lightened up Shabbos menu utilizing olive oil in lighter ways. One such recipe is our well-received lentil beet salad. We highly appreciate the use of olive oil in non-fried preparations, like the pumpkin olive oil cake from Yossy Arefi's new cookbook, Snacking Cakes. We featured that book in our epic gift guide, alongside some other fantastic new cookbooks and loads of gift ideas.
---