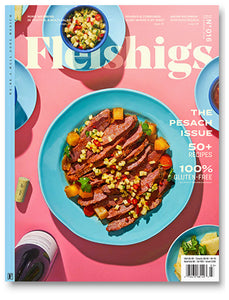 Fleishigs Magazine
Issue No 16 - March 2020
Regular price
$9.00
$0.00
Unit price
per
With a Pesach catering business and a best-selling Pesach cookbook, Naomi Nachman is on a mission to normalize Pesach prep. "Pesach cooking is really not as limited as it seems. You can make almost anything and the recipes I have been developing for the magazine will show just that". From a surprisingly simple Pesach Pho to a delicious Tiramisu Crêpe Stack, plus her game plan and make-ahead tips did not disappoint. 
This whole issue is centered around creating a relaxed Pesach experience with some new and innovative content sprinkled in. You will find some techniques, both simple and more technical, but all doable and inspiring. Chef Avner Guzman, a Cordon Bleu graduate and kosher private chef based out of Paris, visited our kitchen and showcased the wonders of a perfect egg and highlighted seasonal produce. Chef Gabe Garcia, the executive chef of Tierra Sur and one of the top chefs in kosher today, shared how to create and serve chef-level food in a down-to-earth way. 
We also teamed up with Rorie Weisberg, who provided some new salad concepts along with a delicious cake using her newest grain-free mix. Divided into sections in the style of a cookbook of sorts, this issue is packed with 50+ diverse, exciting, and innovative recipes that will hopefully grace your kitchens for many years.
---