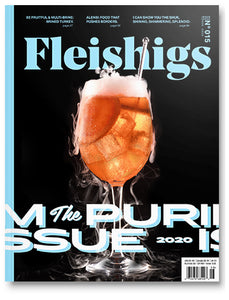 Fleishigs Magazine
Issue No 15 - February 2020
Regular price
$9.00
$0.00
Unit price
per
Our 15th issue showcases incredible edible gifts and inspiration for the Purim feast. We took inspiration from classic hamantaschen and with this month's guest editor, Miriam Pascal, we brought you lusciously sweet and tangy homemade cherry pie filling enveloped in the flakiest pie dough imaginable. Candied beef fry adds a sweet and salty crunch factor to one of the best chewy chocolate chip cookies we've ever tasted and honey-glazed corned beef adds a surprising upgrade to a crowd-pleasing peach crumble. 
We called upon another cookbook author and challah extraordinaire, Rochie Pinson, to share an epic collection of Purim-inspired challah rolls, each one with a spiritual connection to the day. 
The Purim story took place in Persia, which is modern-day Iran. This called for the perfect opportunity to transport our readers to a feast "fit for a king and queen," brought to you by Susan Barocas. We included the magic of tahdig (the Persian crunchy rice delicacy) and many Persian-inspired main dishes and sides. Our Butcher's Cut this month delves into the wonders of the lean shoulder roast, a perfect cut to serve at your Purim feast. 
We hope this issue carries you through with the inspiration to try some new things. Just check out our smoking cocktails!
---