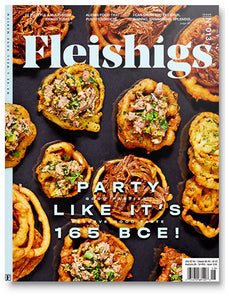 Fleishigs Magazine
Issue No 13 - December 2019
Regular price
$9.00
$0.00
Unit price
per
This past summer, we visited  Sami & Susu, a newly-opened dairy Israeli restaurant located five minutes from the famous bakery, Zak the Baker. Everything we ate was extraordinarily fresh, modern and like nothing we had ever experienced before.
When dessert came along, we were utterly blown away. I knew right then and there that I needed to share this concept with our readers on an easier, homemade level. We teamed up with Reena Goldberger, a super talented event planner and Miami native and resident, who hosted us at her home for the ultimate dinner party. It was amazing to see someone with such talent make use of her limited space without skimping on quality. Reena shares how she entertains in her 250-square-foot kitchen space, which to me, was the most inspiring part. The food was beyond incredible too.
While in Miami, we visited the kosher 'restaurant row' and gathered ideas for making the most of a Miami trip. To really seal the party theme of this issue, we teamed up with Chef Isaac Bernstein who prepared his ultimate party bites. Inspired by traditional fair food, he shares corn dogs and funnel cakes taken in a savory direction. Feel free to customize and top with whatever you would like. To contrast Chef Isaac's savory bites of heaven, pastry expert Deby Sandler shared her authentic churro recipe.
---