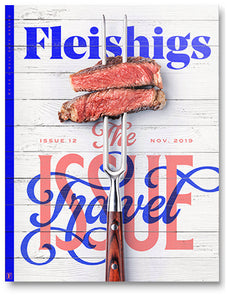 Fleishigs Magazine
Issue No 12 - November 2019
Regular price
$9.00
$0.00
Unit price
per
Vacation is a state of mind.
The truth is, now that our kids are getting a bit older, we are starting to think a bit more about travel, which inspired this issue. Our guest editor Dani Klein (of popular kosher restaurant news and travel site www.yeahthatskosher.com) compiled a list of under-the-radar cities that offer unique sites and experiences, but most importantly - kosher food. And our test kitchen was hard at work this month to bring you the best delicacies that these locales have to offer.
As a kosher consumer, travel holds a great challenge because our meals need to be planned in advance. Today, you can cruise, backpack, visit wineries, and travel to many cities that offer substantial kosher options. And what do you do if there aren't kosher options at your destination? Travel pro Naomi Nachman shares her tips on making kosher work when traveling to far flung areas.
Beyond physically traveling, bringing exotic foods to your kitchen is a wonderful way to "travel" the world through food by discovering new cuisines and products. Add flavor to your life and try Chef Isaac's Roman-style pizza, a delicious ceviche inspired by Panama or fluffy beignets straight out of New Orleans.
Our hope is that this issue will take you places, whether you are inspired to take a physical trip or simply allow yourself to be more adventurous in the kitchen.
---