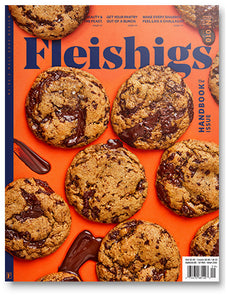 Fleishigs Magazine
Issue No 10 - September 2019 (No Plastic)
Regular price
$9.00
$0.00
Unit price
per
Note: Mag is new, ships without the plastic packaging
Our Annual Handbook is made up of a combination of recipes and information to increase your overall confidence in the kitchen throughout the year. We share 5 "back pocket" dinner ideas, so you always have something filling to whip up at a moment's notice. With Rosh Hashanah, a few short weeks and we had to include some inspiration, like Naomi Elberg's Honey Challah Bowls. 
We have a practical guide to Shabbos with guest editor Raizy Fried, because Shabbos IS cool and should not overwhelm. With the mindset that our big holiday season is upon us, we also offer a new approach to eating, where diet is out and a healthy lifestyle is in. Rivky Rabinowitz brings her fresh voice and relatable ideas to this concept of mindful eating. The truth is, consumers today are on the lookout for foods packed with nutrients and fewer processed ingredients.
We've teamed up with Rosa Seidenwar from Lilyrose Bakers Box who shares 4 incredible desserts that don't compromise on flavor and decadence but are made more mindfully. Bones makes their star appearance in our Butcher's Cut section to highlight zero waste and embrace the tremendous amount of collagen that bones contain. Liz Rueven elaborates on this concept with her feature on farmers' markets and the joy of using seasonal ingredients. Beyond recipes, we interviewed chefs who are currently working in Michelin-starred kitchens and plan to bring that experience to the kosher market later this month.
---