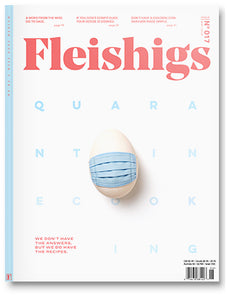 Fleishigs Magazine
Issue No 17 - May/June/Shavuos 2020
Regular price
$9.00
$0.00
Unit price
per
The making of a magazine during COVID-19:
Sage, a new-age 'mom and pop' restaurant run by Chef Jasmine Einalhori generously shares her most popular recipes. A step-by-step guide to making the lightest, fluffiest gnocchi from scratch in minutes. Our expansive Butcher's Cut section features duck confit, the perfect pairing for gnocchi. 
Next, you'll read all about a night of fashion and food at Wall Street Grill in NYC, topped off by chef Joey Paulino's signature recipes. 
Danielle Renov, food blogger at @peaslovencarrots shares some of her favorite family-friendly meals from her home in Jerusalem, and Health coach Celeste Hackel delivers her Cook Once, Eat Twice approach that shares a common theme with cookbook author Rochie Pinson's feature, One Dough, Three Ways. Finally, an elegant Shavous feast that tastes amazing and is sure to impress (guests or no guests) — all at a minimal cost.
---