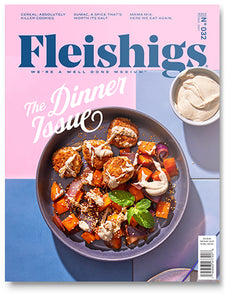 Fleishigs Magazine
Issue No 32 - December 2021
Regular price
$9.00
$0.00
Unit price
per
One fall Sunday, I made Ahuva Schwartz's Sweet and Sticky Roast Chicken, rice, a salad with roasted vegetables dressed with a simple balsamic vinaigrette, and peanut butter cereal bars for dessert. Thanks to a quick search on our new app, it all worked out easily. Coincidentally, I was in the planning stages of this issue and was doubting the need for a dinner issue at all. But this personal experience made me realize that there are never enough ways to make dinner and everyone can always use new and fresh inspiration. 
  This issue offers more than just a collection of new recipes. We focused on tips and techniques, along with base recipes that work many ways and how to utilize leftovers. Our Butcher's Cut feature highlights chicken breasts and ground chicken, which doesn't tend to have the best reputation compared to meat. We have soups to keep you warm and cereal cookies the whole family will love. 
  We visited Mama Kitchen's new location, a unique restaurant dedicated to serving homestyle Israeli food with an elevated vibe. This is the start of the "Fleishigs winter trilogy" — three consecutive non-holiday issues, the dinner issue, followed by the Restaurant Issue, then the Kiddush Issue. This allows us to think outside the box and draw inspiration beyond the time of year and holiday that may be upon us. 
---