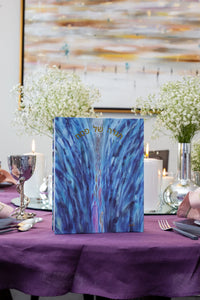 Yaeli Vogel
Artistic Haggadah - Breaking Free
Regular price
$106.00
$0.00
Unit price
per
 Passover Haggadah: Breaking Free.
It's easier to break out of physical chains then it is to break free from our minds. 
Our minds are the most powerful thing we have in our possession. 
Our minds have the ability to enslave us or empower us. 
Our minds can take us to the depths of misery or the greatest of heights. 
Just because we were slaves long ago, doesn't mean we are now. Just because you went through something in your past, doesn't mean it's your identity. Just because you're going through something right now, doesn't mean it defines you. 
Our minds define us. If the mind is free, you're free! Free to be the real you and to accomplish what your soul is set out to do on this earth. 
The soul knows no barriers. It's deepest desire is to break free. Let it. And experience your greatest joys. 
The Hagaddah is hardcover, soft touch laminate with gold foil lettering. It has a velum cover sheet protecting the pages within. There are paintings throughout the Hagaddah. There are descriptions about the paintings as well as Dvar Torah / commentary on some of the Hagaddah segments. There is English translation throughout the entire Hagaddah.
---