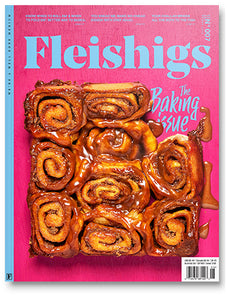 Fleishigs Magazine
Issue No 07 - May / June 2019
Regular price
$9.00
$0.00
Unit price
per
The truth is, most people only do one or two dairy meals; while they are great cause for celebration (believe us, we have some exciting menu ideas for our own personal Shavuos meals), the rest of Shavuos is meat-focused and we've got you covered with inspiration and menus from Noi Due Carne and the talented chefs who prepared an epic Friday night meal for the South Beach Wine and Food Festival, as well as Chef Isaac's Modern Heimish column.
This month we bring you our live article from the epic dinner we hosted at Noi Due Carne (see An Italian Shavuos Feast and detailed step-by-step guides such as how to shape babka like a professional. This is the issue where we provide a complete guide to pareve baking. Experts like Paula Shoyer, Naomi Elberg, and Chef Isaac Bernstein cover a wide range of topics from sweet to savory, substitutions, easy staple doughs, and recipes that will blow your mind and change the way you bake forever.
And if you've gotta have your Michigsinspired-by-Fleishigs fix on Shavuos, make a cheese pizza using Chef Isaac's No-Knead Dough, use butter in Naomi's No-Fail Babka Dough, or use dairy cream cheese in the Cherry Cheesecake Babka.
---