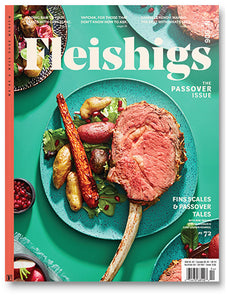 Fleishigs Magazine
Issue No 06 - April 2019
Regular price
$9.00
$0.00
Unit price
per
Growing up in a Chabad household, we were very limited in the use of our ingredients during Pesach. Those experiences and cooking style, however, developed a deep appreciation within me about how much can be done with minimal ingredients. Guest editor Danielle Renov (@peaslovencarrots) shares her many recipes, tips and tricks you'll find throughout the issue stick true to this theme. Danielle's mom joined us as well to share a family classic, yapchik, which utilizes a few simple ingredients, meat, potatoes, onions and more meat, in the most magical of ways. 
Months ago, when we approached Chef Isaac Bernstein about contributing to this issue, he immediately stated, "it's time to get back to basics." Basic for Chef Isaac is still spectacular, but attainable, so don't worry. The blintz recipe he shared stacked and folded amazingly well. His grandmother's nut cake was fluffy, tender and had just the right amount of chocolate. You'll find this philosophy in Chef Gruzman's salmon tartare as well.
Naomi Nachman shares her freezing tips and her amazingly simple 5-ingredient lemon curd. The truth is, most recipes are between 5-10 ingredients and are basic with an element of something special. And beyond that, we share everything you will need this Pesach season. A dose of inspiration (the largest seder in the world), basic kitchen supplies, utilizing leftovers and everything you need to know about fish.
---