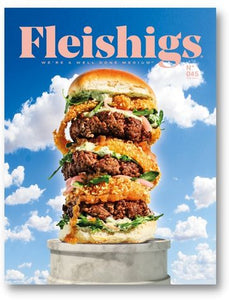 Fleishigs Magazine
Issue No 45 - February 2023
Regular price
$9.00
$0.00
Unit price
per
Issue No 45 - February 2023
When it comes to Jewish comfort foods, there are classic dishes that reign supreme.
Traditional fare like brisket, chicken soup, latkes and pastrami are American Jewish favorites, while falafel and hummus are beloved by Israelis, kebabs and rice by Persian Jews, couscous amongst Moroccan Jews and plov amongst Bucharian Jews. In this issue, we explore classic Jewish dishes and share some traditional recipes with meaningful and nostalgic stories by those who contributed them. 
One of my gripes with the mainstream perspectives on kosher is that it is very limited; people put it in a box and have no clue as to how diverse and exciting Jewish cuisine is. 
This is one of the main reasons why we started Fleishigs — to showcase the diversity and excitement that is current Jewish food and culture. Especially today with the amalgamation of cultures, we love combining Sephardic and Ashkenazi food to create new fusions and new traditions. This issue celebrates the past and present with an eye on an exciting food future.
---