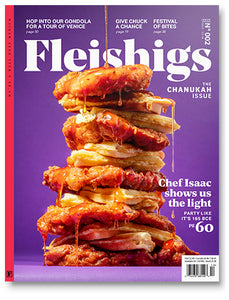 Fleishigs Magazine
Issue No 02 - December 2018
Regular price
$9.00
$0.00
Unit price
per
We took the Chanukah message to heart and partnered with the Musket Club to create a modern Chanukah dinner all about unity and common ground, which we celebrated with a wide variety of food influencers over an eight-course revolutionary meal.
Chef Isaac Bernstein shares his modern heimish take on a Chanukah party menu which involves potato kugel (of course) and homemade duck pastrami. During the photoshoot, we discovered that leaving out an ingredient in potato latkes makes a world of a difference (see page 43). For an ultimate party food, sheet pan latkes are a must-try! Easy to make and memorable to boot!
We are also mega-pumped for the Formula feature (see page 63) which provides readers and cooks everywhere the confidence to roast vegetables, make the silkiest vegetable puree and no-stock necessary soup without ever having to follow a recipe. In that regard, you will also gain mastery on making the best fried chicken (page 8) and cooking chuck eye like a pro (page 18). The travel feature to Venice (page 50) by Italian kosher blogger Alessandra Rovati combines travel tips, an authentic Venetian doughnut recipe and the history of the Jewish Ghetto of Venice.
---