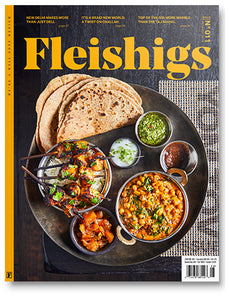 Fleishigs Magazine
Issue No 11 - October 2019 (No Plastic)
Regular price
$9.00
$0.00
Unit price
per
Note: Mag is new, ships without the plastic packaging
Our Yom Tov issue is all about new flavor profiles and updates on traditional classics. Eitan Bernath (@chefeitanbernath) shares an incredible Indian feast with an indescribable combination of warming flavors that fit the season perfectly. Travel extraordinaire Miriam Schreiber (@miriamslegacykoshertours) takes us on a journey to India and shares its rich Jewish history.
Another surprising addition to our table is pretzel challah (and its many variations) that challah master Kayla Kaye (@thekitchny) shared with us. This month it's all about top of the rib. Try my Middle Eastern take with figs and baharat, or go the Korean route with some gochujang and garlic.
In an issue that's all about new flavors and traditions that pop, cookbook author and food blogger Chanie Apflebaum (@busyinbrooklyn) is the perfect voice to take this issue over the top as guest editor. She shares recipes that showcase simanim (foods that symbolize the blessings we look for in the coming year).
Lastly, we spent weeks in the test kitchen to bring you the perfect gefilte fish primer. We also spent a considerable amount of time researching how the newest form of butter replacement, Betterine, performs in professional kitchens, with experts from around the country weighing in on the matter.
---